Welcome to the german bakery Bäckerei Perkeo.
Bäckerei Perkeo in Kyoto/Okazaki is a german bakery that offers german bakery
and confectionery products that are 100% handmade and from original german recipes,
which are produced by the german masterbaker Johnny Altmann.
Our mission statement: We offer a wide range of german breads from the cereals wheat, rye, spelt(Dinkel) and oats, some of which are imported from Germany. For some types of bread, we grind our own flour in our own mill. Homemade sourdough is used for many varieties, which improves the bread's flavor and improves its digestibility and freshness.
We also have a lot of whole grain breads
 
We use different homemade sourdoughs for our breads, which differ in acidity and general taste,
so we do not add yeast to some of our breads because the sourdough forms enough yeast of its own.
We also use pre-doughs, pre-soaks and cooked-soaks to ensure a better aroma and a better freshness of the bread.
All our doughs get very long dough rest and fermentation time before they are baked.
 
Perkeo is located in an area very popular with tourists, close to the tourist attractions, Heian-jingu, Okazaki Park,
Philosophers' Walk, Eikan-do, Okazaki-jinjya, Nanzen-ji Temple and Shinnyo-Do Temple.
From here, everyone can be reached on foot, so visit us while your sightseeing tour for lunch or a coffe and cake
on our terrace, we also serve original german beer.
 
Our address: Crillon Okazaki 1F, 54-1 Tenno-cho, Okazaki Sakyo-ku, Kyoto, 606-8335 Japan.
Breads
★:you can buy it only on Saturday, Sunday and National holiday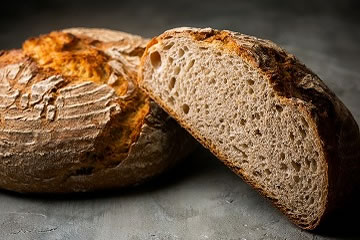 Weizenmischbrot
¥580 /half¥290
A mixed bread made of 70% wheat and 30% rye, produced with sourdough and pre-dought, a mildly sour and easily digestible bread, one of the most common breads in Germany.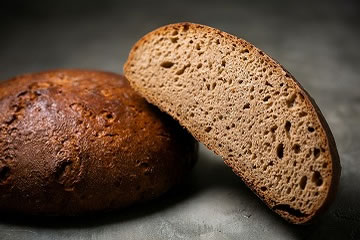 100% Roggen
¥980 /half¥490
A bread made from 100% rye flour, with a very special 4-stage sourdough that develops a very mild acidity and develops enough of its own sourdough yeast so that no yeast has to be added to the dough.
For a rye bread very mild in taste and easily digestible.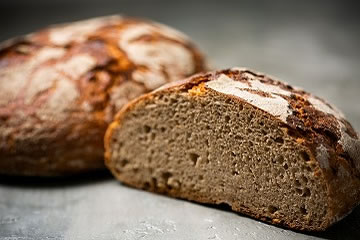 Berliner Landbrot
¥760 /half¥380
A mixed bread made from 70% rye and 30% wheat, made with sourdough. Sour taste.
A very common bread in Germany.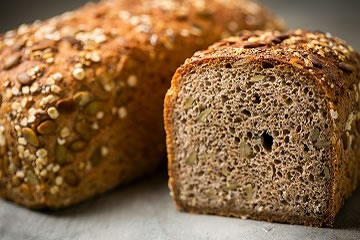 Fitnessbrot
¥880 /half¥440
A whole grain bread, enriched with seeds. 50% whole wheat, 40% whole rye, 10% whole grain oats.
With chia seeds and pumpkin seeds.
Made without the addition of yeast, only fermentated with a special sourdough.
A particularly healthy bread.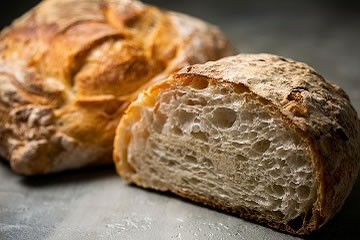 St.Galler
¥540 /half¥270
A 100% wheat bread with a very high hydration content and long fermentation time.
This bread has a very aromatic taste and is perfect as a side dish for salads.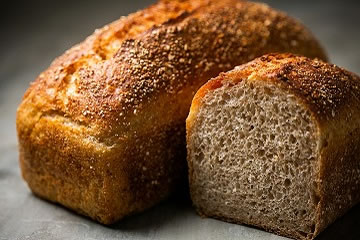 Dinkelkasten
¥640 /half¥320
a bread made from 100% spelt from Germany, 25% whole grain. Particularly digestible and very tasty with the typical nutty spelt aroma. Very good freshness due to very long dough rest and fermentation time. Suitable for sandwiches and as a side dish. A great alternative for people who want to do without wheat.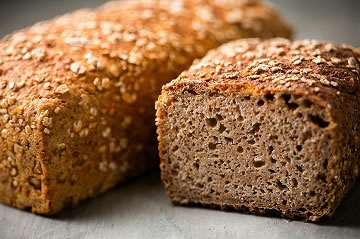 Dinkelvollornbrot
¥1,300 /half¥650
Made from organic wholemeal spelt flour from Germany. We grind the flour ourselves in our own mill. Without adding yeast to the doug.Very digestible and healthy bread. Ideal for people who want to do without wheat.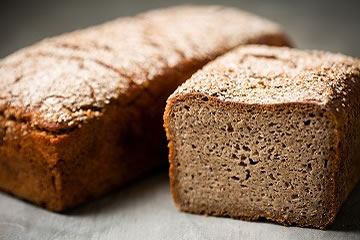 ★Roggenvollkornbrot
¥1,080 /half¥540
A bread made from 100% whole rye flour. Made with homemade sourdough so that no yeast has to be added to the dough. A mildly sour aroma, very long freshness. We offer this brad only on weekends and public holidays.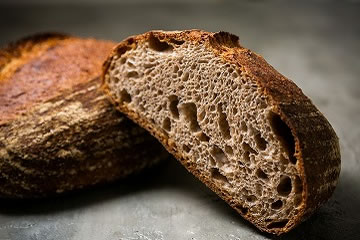 ★Weizenvollkornbrot
¥1,080 /half¥540
A bread made from 100% whole wheat flour. The dough has a very long dough rest and fermentation time. Very aromatic taste. We only offer this bread on weekends and public holidays.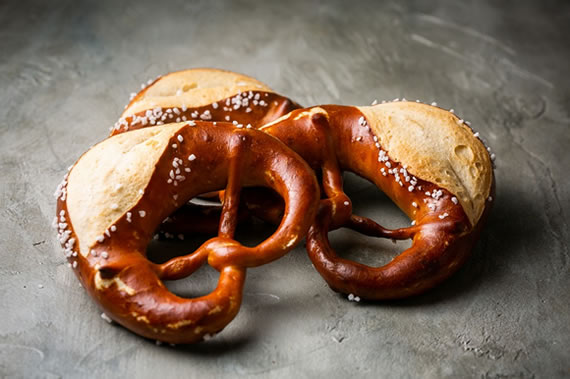 You have to try them, our pretzels are incredible in taste, made in the swabian style.
Buns made from 100% spelt flour from Germany. Very aromatic and delicious.
Müsli-Dinkelbrötchen
¥290
Buns made from 100% spelt flour from Germany. Enriched with dried cranberries, apricots, figs, walnuts and sesame seeds which have been soaked in apple juice overnight. Indescribably delicious.
Sweet Baked Goods
in our range we have sweet baked goods such as Danish pastry, puff pastry, nut plaits and German biscuits.
Seasonal Baked Goods
We offer specialties such as Christmas stollen, Christmas cookies, Easter bread, Easter lamb and Ziebelkuchen for each season.
Sandwiches
We offer many different German sandwiches with e.g. German sausage, meat loaf, tomato mozzarella, fried egg, Black Forest ham etc.
All sandwiches from our handmade buns.
Cakes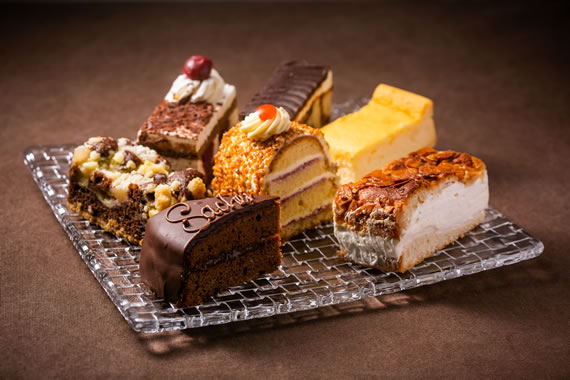 A sponge cake with cherries inside covered with German butter cream and a chocolate coating.
A ring-shaped sponge cake soaked with cherry liqueur, filled with raspberry jam and German butter cream. Covered with caramelized almond crumbles from outside.
Schwarzwälder Kirschschnitte
¥580
Perhaps the most famous German cake. A chocolate sponge cake soaked in cherry liqueur. Filled with cream and cherry filling.
A sweet yeast dough filled with a vanilla cream. Covered with caramelized almonds.
Probably the most famous chocolate cake in the world from Vienna. A chocolate sponge cake filled with apricot jam and covered with a chocolate glaze. Made according to an original Viennese recipe.
VAT: VAT varies in Japan, 8% is payable for takeout purchases, 10% is payable for dining in the restaurant.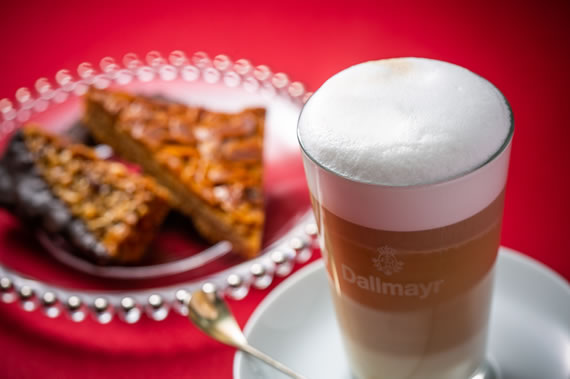 | | | |
| --- | --- | --- |
|   | eat-in(in tax) | to go(in tax) |
| coffee | ¥408 | ¥400 |
| espresso | ¥357 | ¥350 |
| cappuccino | ¥509 | ¥500 |
| latte macchiato | ¥591 | ¥580 |
| French press coffee | ¥591 | ¥580 |
| ceylon tea/fruits tea/Camomile tea | ¥408 | ¥400 |
| | | |
| --- | --- | --- |
|   | eat-in(in tax) | to go(in tax) |
| iced coffee | ¥458 | ¥450 |
| iced coffee latte | ¥509 | ¥500 |
| ceylon tea/fruits tea/Camomile tea | ¥458 | ¥450 |
| apple juice 180ml | ¥408 | ¥400 |
| orange juice 180ml | ¥408 | ¥400 |
| carrot juice 180ml | ¥408 | ¥400 |
| ginger ale(orange&cinnamon) | ¥591 | ¥580 |
| ginger ale(Citron&ginger) | ¥591 | ¥580 |
 
ONLY EAT-IN
Bitburger(Pils) 330ml
¥590
Weihenstephaner(Hefeweizen) 330ml
 
¥790
Früh Kölsch(Kölsch) 330ml
¥690
RIEGELE(Aechtes Dunkel) 500ml
 
¥890
 
 
 
Bäckerei PERKEO Alt Heidelberg
Adress:
〒606-8335 54-1 Okazaki Tennocho, Sakyo-ku, Kyoto, Kyoto Crillon Okazaki 1F
TEL:
075-752-5577
Business hours:

open 9:00 – close 18:00
open 7:00 – close 18:00 (Saturdays, Sundays, and holidays)

Regular holiday:
Wednesday and Thursday